Since we do just about everything as a group, we have moved most of Zorro's activities to the consolidated husky activities page for the whole pack...
Zorro is 2 years old! (June 2010)
Zorro is 2 - a full fledged "adult". He's a little guy (41 lbs) but boy does he have the "sleddog wheel" attitude. Such a cutie when he's sitting still...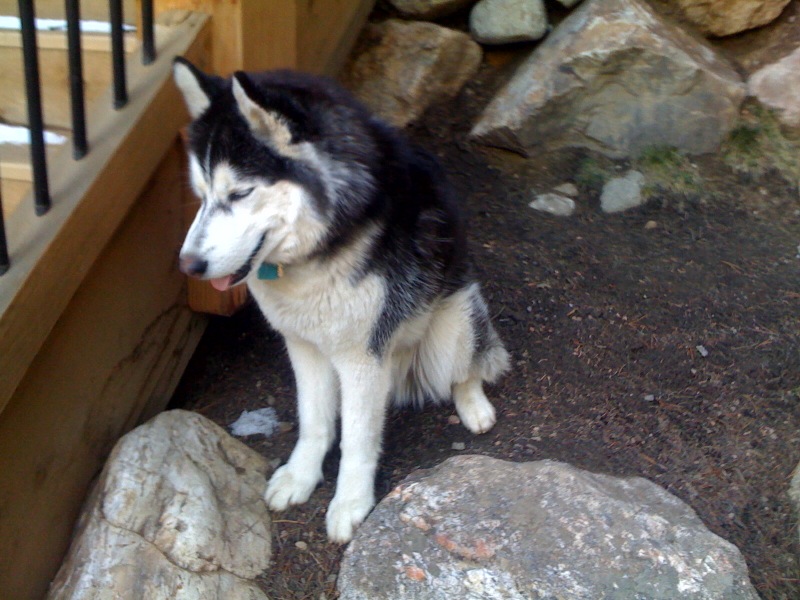 18 to 24 months
What a winter.... skijoring, sledding, and more...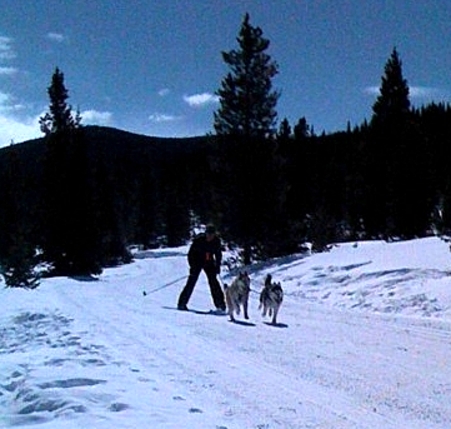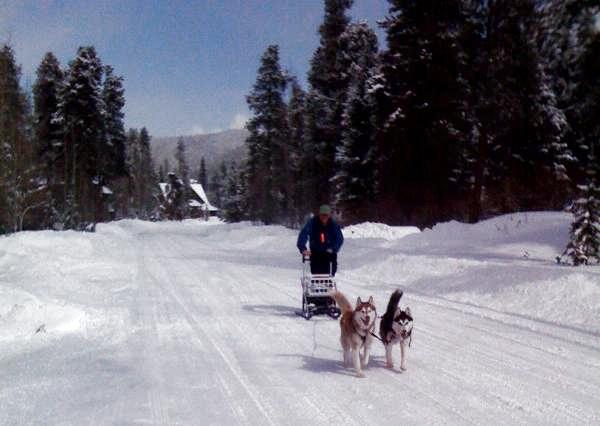 Zorro at 18 months old! (Dec 2009)
Well, Zorro turned 18 months old on December 1, and we were hoping for a magical "maturing event" but alas it hasn't happened yet. (stop laughing!!!!) But - we did make the local newspaper again. Apparently the boys are so photogenic that the cameraman loves to take their photos. Here is a picture of the boys (along witih Brad) hanging out one day in Breck: see newspaper photo here
Zorro at 16 months old! (Oct 2009)
It's now a yearly ritual to hike up to the snow guns on the ski mountain at the first sign of snow down in Breckenridge. So Max and Zorro hiked up again to find their first nice snow of the season - here is a side-by-side photo from last year's trip (Zorro was 5 months old and didn't understand snow yet) and this year's trip: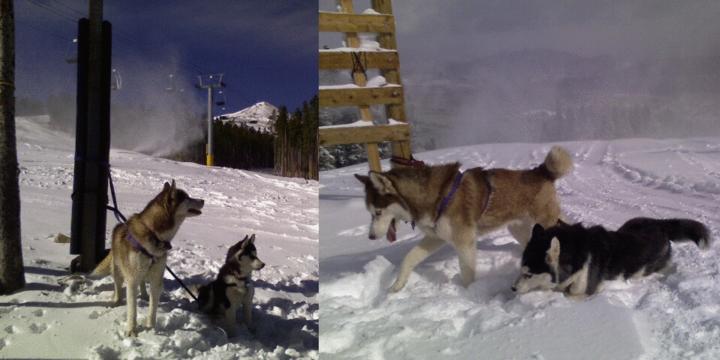 Zorro at 15 months old! (Sept 2009)
Compare Zorro and his best bud Max - they've always loved to sit in this same place on the patio, looking for people and dogs that walk by on the hiking trail outside our yard. The leftmost photo is the day Zorro joined us, at 9 weeks old, the center photo is Zorro at 4 months old, the rightmost photo is Zorro at 15 months old with his big brother Max.

Zorro runs his second human-canine race and came in 6th place! (Aug 2009)
Click the thumbnail photo below to see the details!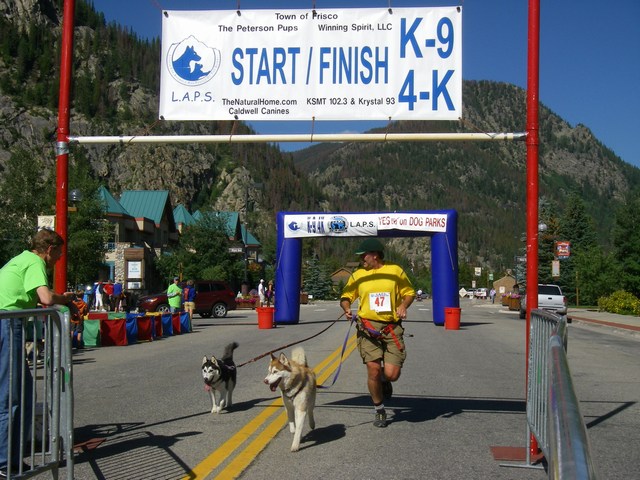 Social Cisco - if you can't beat em, join em
Here we caught all 3 boys laying almost on the same bed... so much for "Social Cisco" and his aloofness (but hey, notice he is still farthest away from puppy Zorro). But Zorro is mugging for the camera - what a cutie.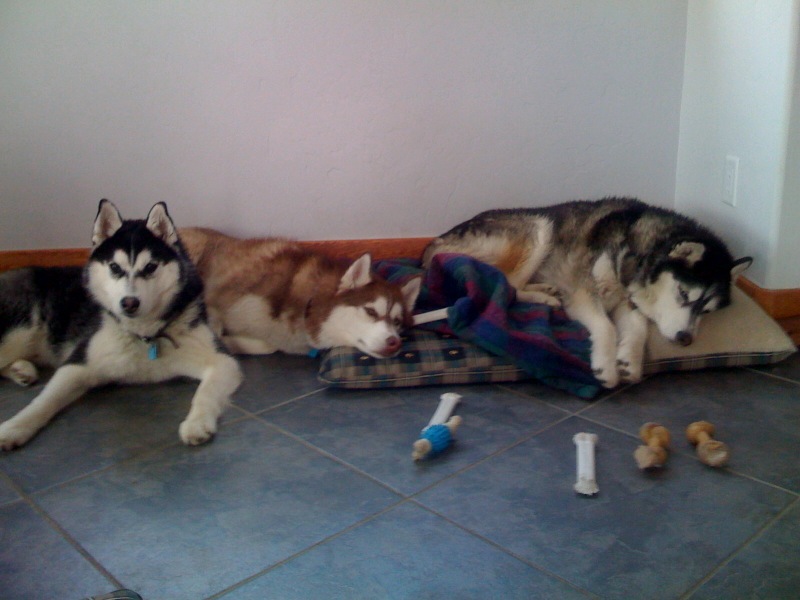 Zorro at 11 months old! (May 2009)
Zorro runs his first Canine Classic 5k race - he and Max (and Brad - someone had to hold the leash) came in 13th place this year! Notice that Max and Zorro are running with their legs in perfect unison. It is so beautiful to watch them in complete synchronization! Here's the picture I took as they approached the finish line: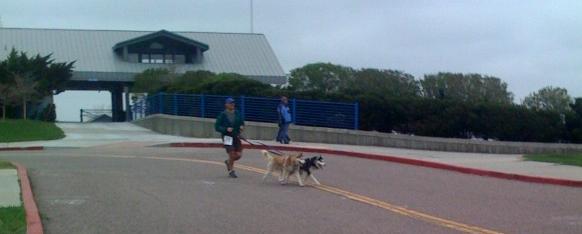 Here are some photos taken by the pros (with better camera) at the event: from FotoJack
Zorro at 9 months old! (Mar 2009)
Adorable Zorro and Max *still* like to share the same bed!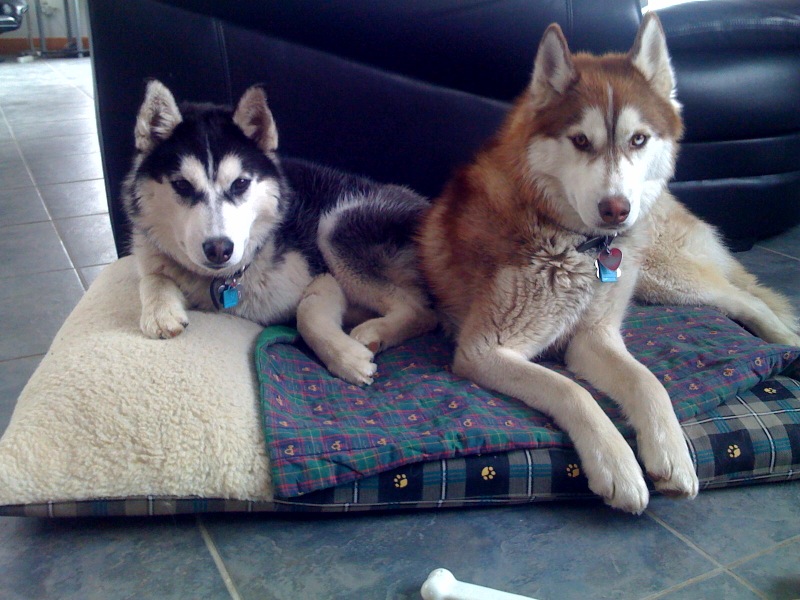 Zorro at 8 months old! (Feb 2009)
Here is a picture of Zorro and Max (and Brad) in the snow at our favorite spot at Sawmill Reservoir in Breck. Zorro looks small in this picture because he is buried in snow - it was as deep as Brad's legs - but Zorro is really turning into a big boy (see sledding picture below)!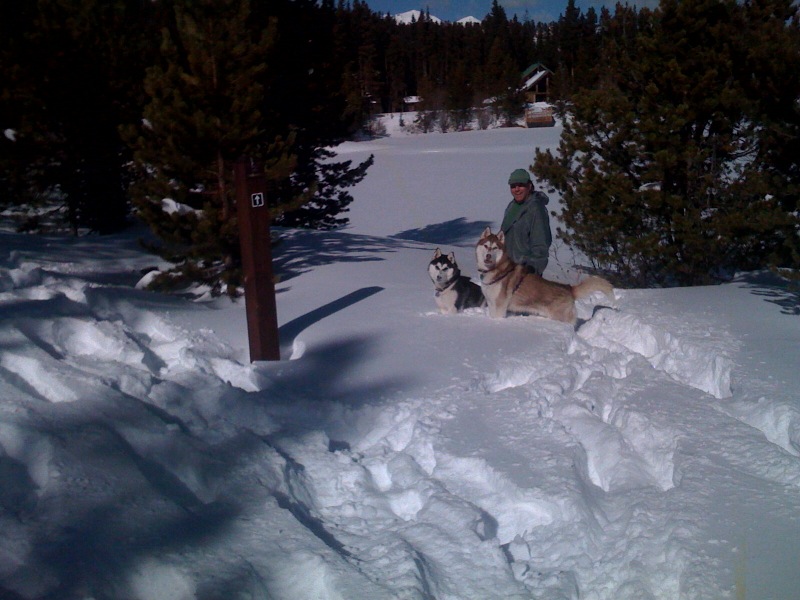 Also got a little better picture of Zorro sledding this month - it is still really hard to get a good picture because with all 3 boys hooked up they go soooo fast! Max is in lead, Cisco is in the rear left and Zorro is in the rear right.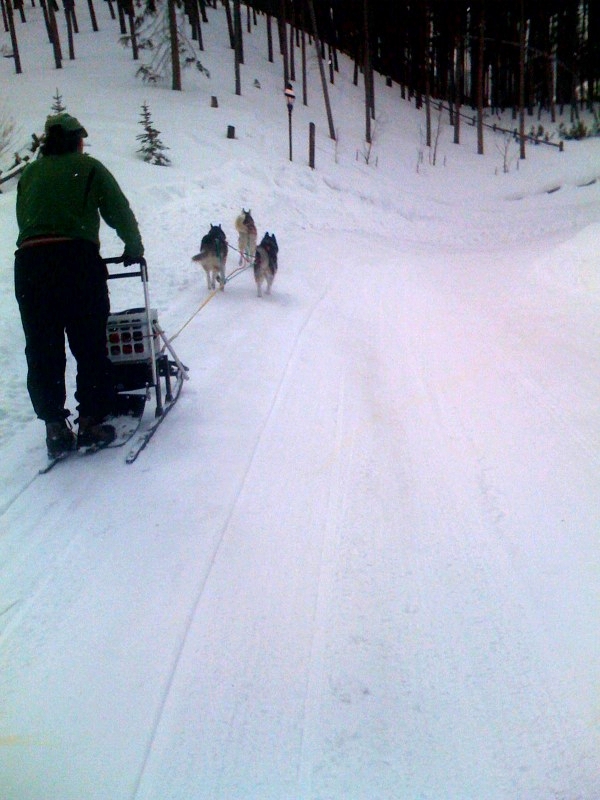 Also the boys made the local newspaper this past month! Apparently they were sooo cute the photographer couldn't resist - see our newspaper star boys here!
---
Zorro at 7 months old! (Jan 2009)
Time flies. Zorro is getting so big you can barely tell the difference between he and Cisco at a fast glance. Here are some pictures of him sledding this month. The first one is Zorro and Max flying down one of our favorite hills. Remember a similar picture of Max when he'd just turned one year old, coming down that hill with Cisco? Almost looks identical!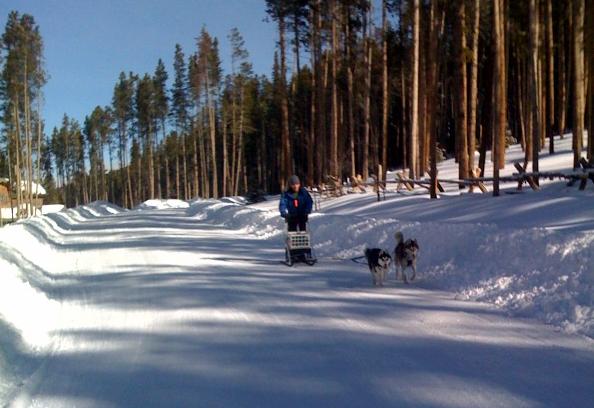 Can you believe how big he looks next to Max!?!?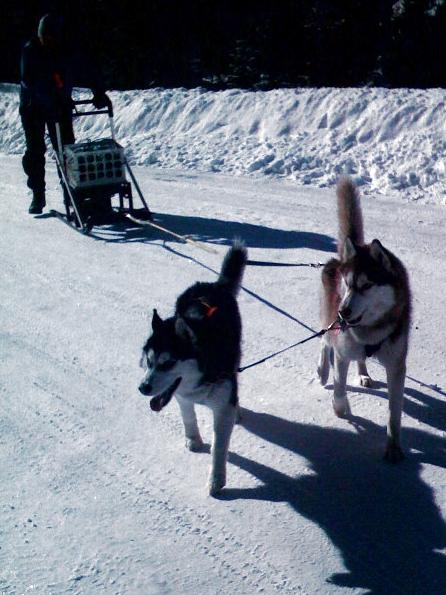 Zorro does the best when sledding with both boys - being next to Cisco is a great stabilizer (and Cisco is a great teacher). Plus Zorro tries *so* hard to catch Max in the front, he runs his little tail off! This picture is pretty horrible because it was soooo bright out, my camera phone was just not up to showing any details against the bright, white snow. But in this picture Zorro is in the left rear, Cisco in the right rear, and Max in lead.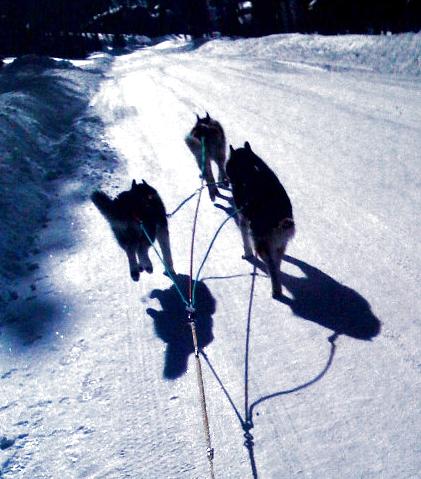 ---
Zorro at 6 months old! (Dec 2008)
Zorro got his first sledding lesson! We were going to wait until he was 8 months old but hey - the harness fit! This harness fit Max when he was 8-9 months old, but Max was (and is) a tall string-bean. Zorro has a short, stocky, bowling-ball physique. He can plow through *anything* -- thus the reason we decided to harness him up.

Look how attentive Zorro is in getting his first instructions!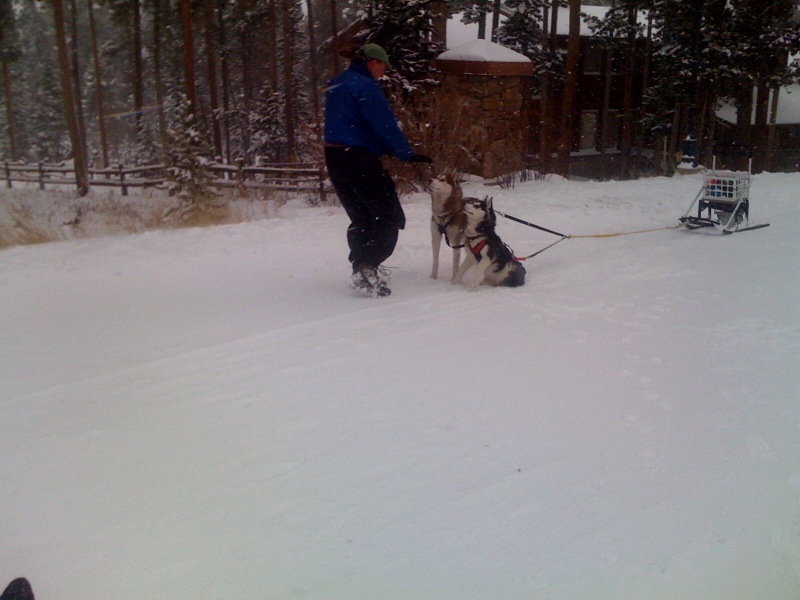 Now Zorro, try to go forward without playing with your brother!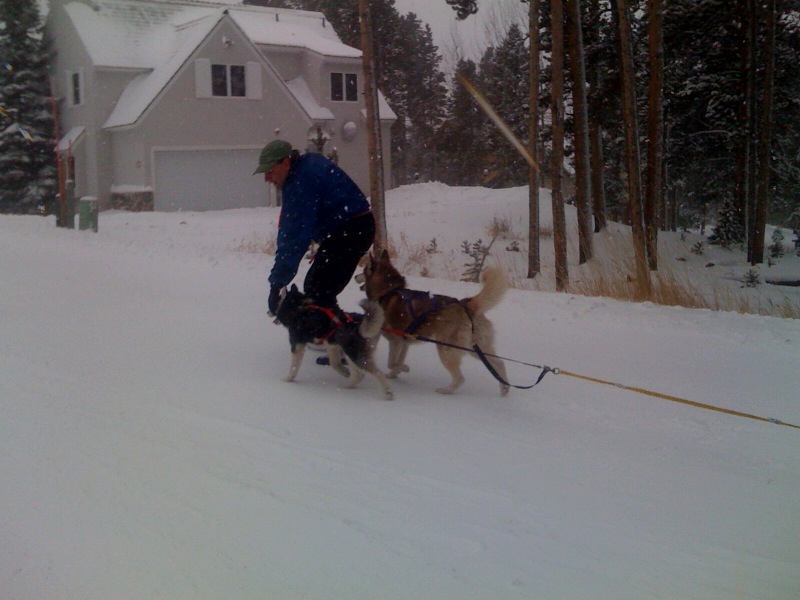 ---
Zorro at 5 months old!
Zorro sees his first snow! He and Max had to hike up a bit to where the snow making machines are cranked up for the opening of ski season in 2 weeks - but hey, snow in October is very cool! We only got a couple inches at home and it melted really fast - but up higher on the mountain is looking good!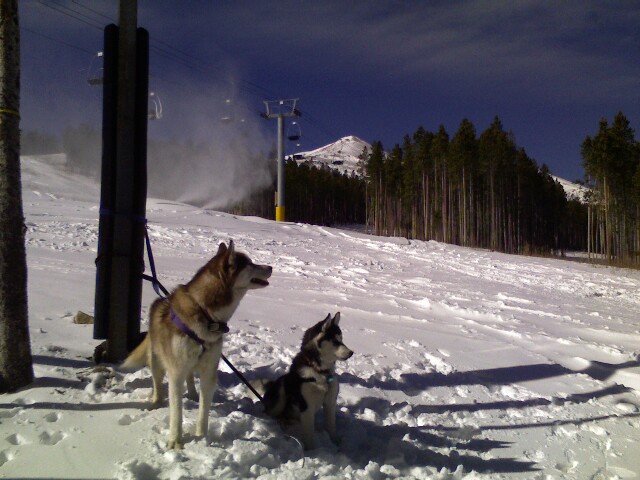 Here is another side-by-side picture of Max and Zorro on Zorro's first day here, alongside them laying in that same place months later when Zorro was 5 months old! Isn't it adorable that Zorro still likes to sleep on Max's tail!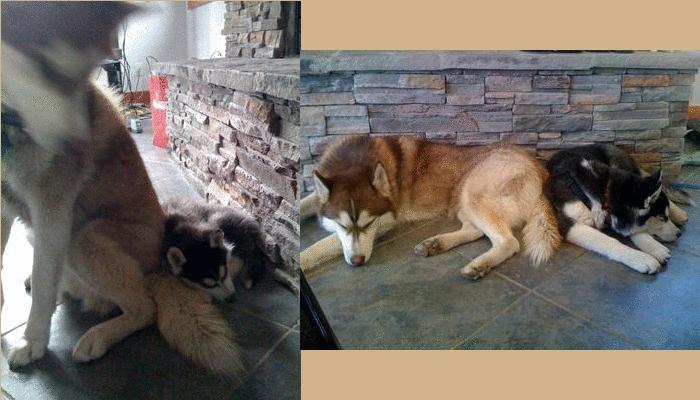 ---
Zorro turns 4 months old!
See that Max and Zorro are still best buds -- see how big Zorro is getting - compared to the first day he came home at 9 weeks old! Also notice that they are sitting in the same exact location on the patio -- the camera is just in another position. Too cool, huh.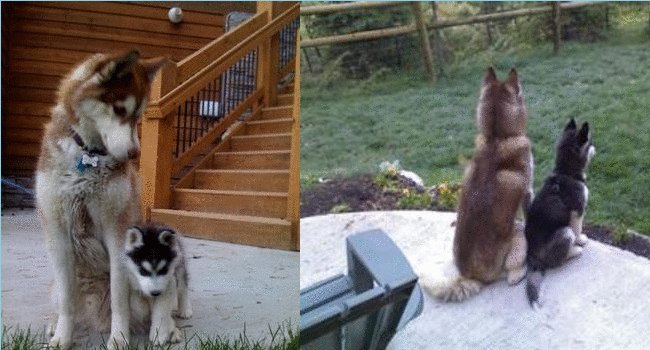 We also have some more youtube videos!
---
Pictures of Zorro at 9 weeks - his first week with the new pack!
Max and Zorro on the first day home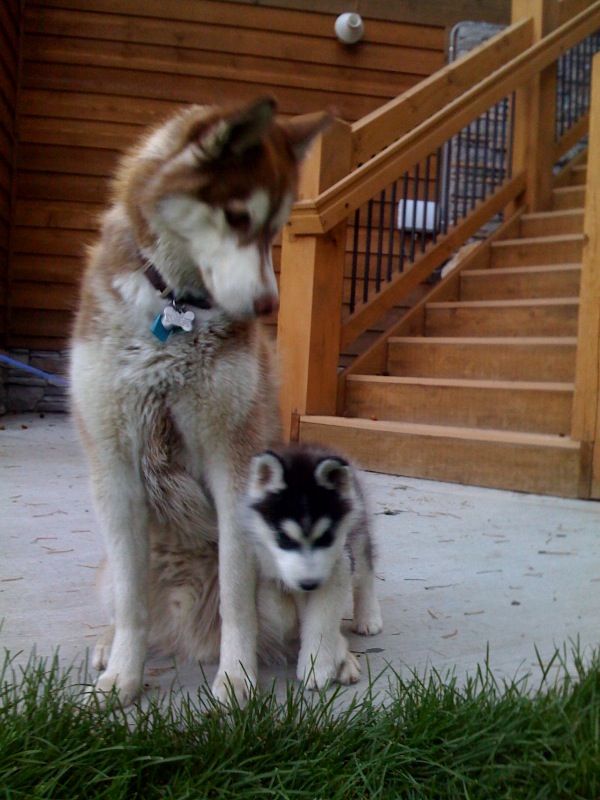 Funny - almost the same pose by Max as Zorro curls up and lays on Max (awwww, what a great big brother Max is)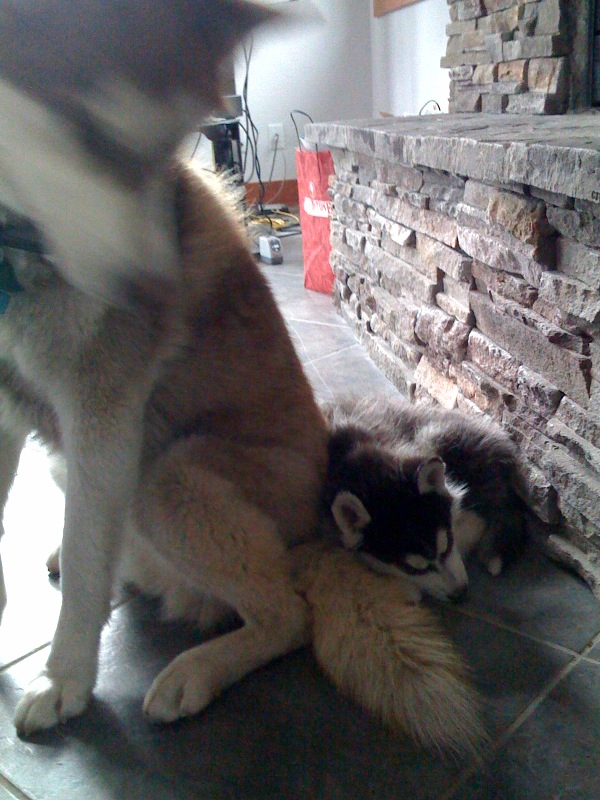 Anyone who knows Cisco knows that he is being *very* social sitting this close to a puppy. Cisco always give us "that look" when we bring a puppy home (like... whose bright idea was THIS!)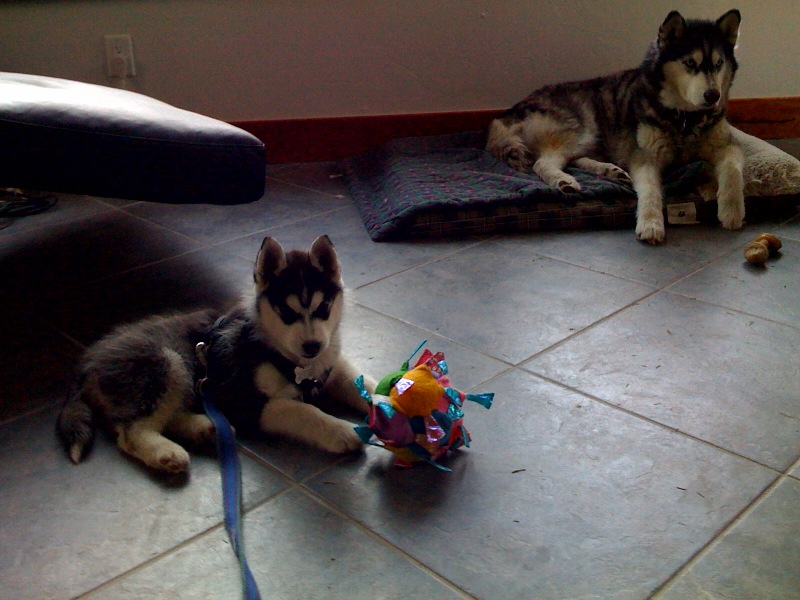 First shot of the 3 boys together - took "Social Cisco" a couple of days to get near the puppy.

It's hard to see below, but Zorro and Max are both chewing on the same stick. These two are destined to become best buds.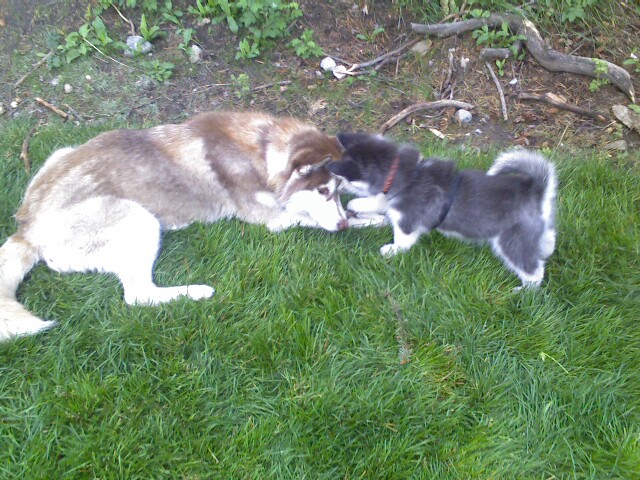 Big brother Max teaching Zorro that squirrels live up in the trees.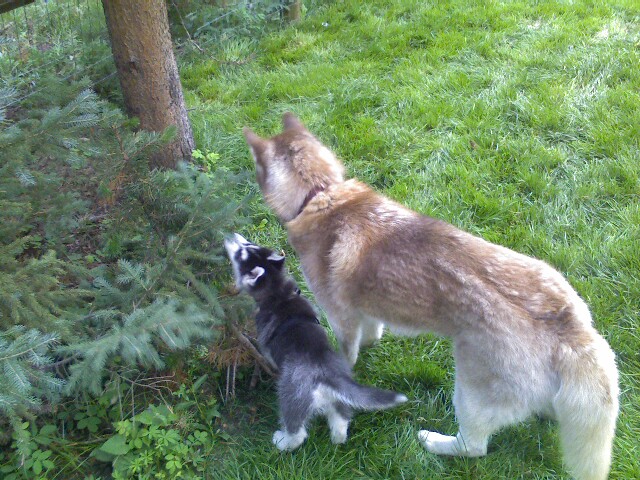 And finally... our first video of Zorro playing with Max!
Mature Max gets the tables turned when Puppy Zorro tries to play with the big boy. Look how controlled Max is and how patient he is with the little puppy! Zorro is 9-10 weeks old in this video.
---
Early picture of Zorro and his littermates - he is the one on the left (thank Dog he's not the one climbing out of the box -- that one looks like trooouble!)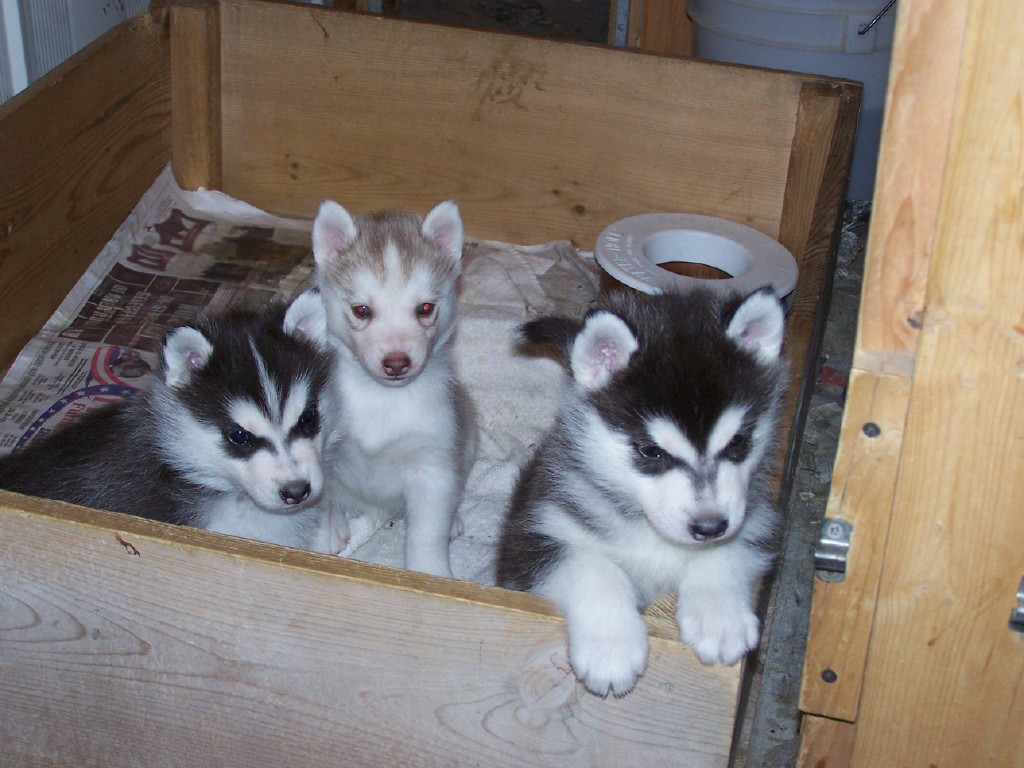 Pictures of Zorro at almost 8 weeks - the week before he came home with us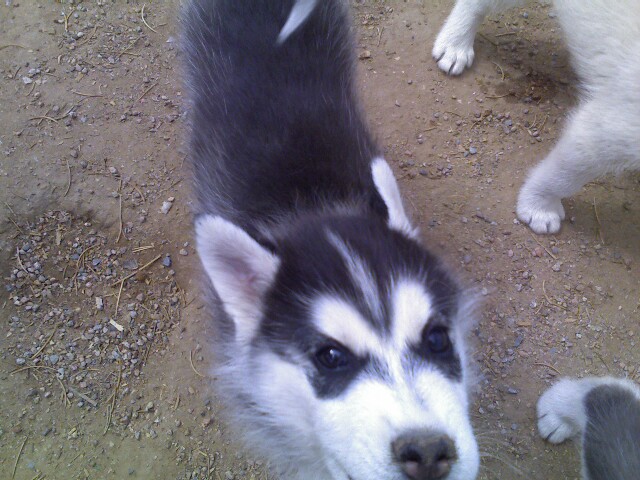 The white mark on his back is where he attaches his cape. :-)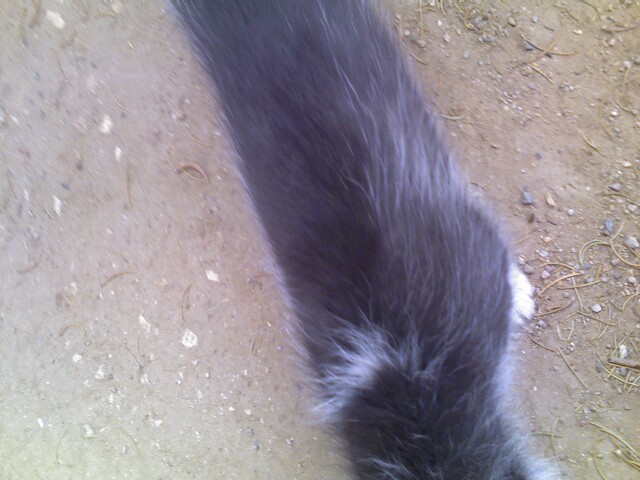 Mom playing with Zorro and the littermates - notice the SOS-SRF t-shirt. :-) See Zorro's cute little white-tipped tail too.